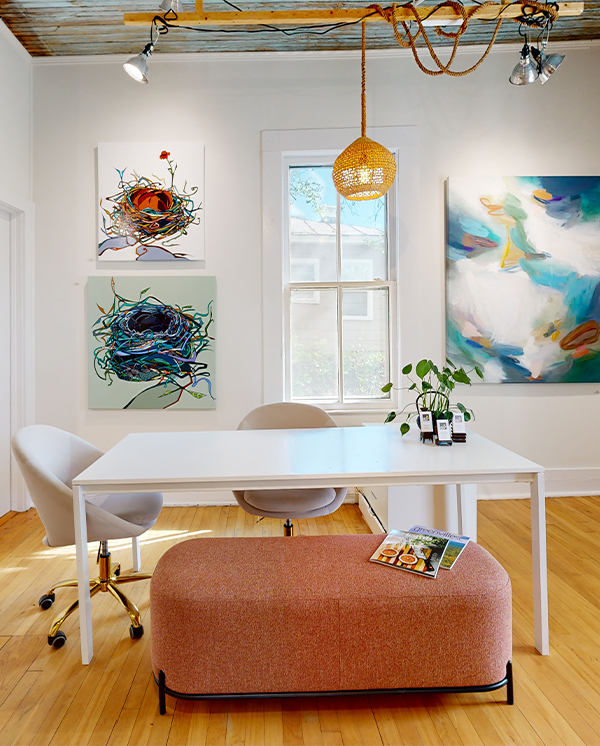 Share The Experience And Beauty Of Human Expression!
There are several benefits of using 3D virtual tours for art galleries, including:
Increased Accessibility: 3D virtual tours make it possible for people from all over the world to visit an art gallery without having to physically be there. This is especially beneficial for people who may have mobility issues or live in different parts of the world.

Enhanced Engagement: 3D virtual tours provide a more immersive experience than traditional 2D photos or videos. Visitors can navigate through the space and interact with the art in a way that feels more like being there in person.

Extended Reach: With a 3D virtual tour, art galleries can extend their reach beyond their physical location. They can reach a wider audience and showcase their collection to people who may not have been able to visit otherwise.

Cost-Effective: Creating a 3D virtual tour is a one-time expense that can provide ongoing benefits. It eliminates the need for costly travel or expensive photography equipment and allows galleries to showcase their space and artwork in a way that is cost-effective.

Time-Saving: Visitors can take as much time as they want to explore the gallery and its artwork without feeling rushed or limited by hours of operation. This allows visitors to fully engage with the artwork at their own pace.
Overall, 3D virtual tours can be a valuable tool for art galleries to showcase their collection and engage with a wider audience in a more immersive and cost-effective way.
Art Gallery Portfolio
Recent Completed Projects
Consistent Virtual Experience
Apotheosis Media delivers accurate 3D visual representations of your art gallery and the data behind site management. Accurate measurements of your entire, space, dimensions of the aisles, and type of products are all important details for each location.
Hire Apotheosis Media to plan for selling, seasonal and promotional rollouts. Directions to employees and customers can be shared in an easy to understand visual format that is better than lengthy emails and spreadsheets.
75% of shoppers are more interested in shopping in 3D
While most customers are shopping online due to safety concerns, 70% expressed missing the physical experience of walking around a gallery and browsing product displays. 
Our recent survey shows that 73% of respondents would prefer to shop a 3D virtual gallery – but only two-thirds of them have done so. Tremendous potential awaits.
Train your employees faster
Employees also benefit from 3D walkthroughs of your gallery. New or visiting employees can gain access to your art gallery from their own computer to quickly understand the flow of the space without the hassle of arranging onsite tours.
Helping new employees learn their way around means they can hit the ground running when they start. Time required to train new recruits is minimized, which saves time and money.
By enabling your prospective clients to see your art gallery in 3D, you can stand out from the competition and provide an immersive experience that is not possible with photos or 360 tours.
Provide the best presentations
With a 3D virtual tour, prospective leads can do their own walkthrough of your art gallery from anywhere, anytime, generating higher engagement and interest.
Sell at a 4-9% higher sales price.
Decrease time on market by up to 31%.
90% of buys would be more compelled by a listing with a 3D tour.
Attract more qualified prospects by giving viewers the most complete representation of your art gallery, filtering out art or prospects the gallery may not be right for while also attracting leads that are genuinely interested in your art gallery.